Tahun 2022 menjadi salah satu tahun dengan banyak milestone yang dicapai oleh Campina Ice Cream, perusahaan manufaktur es krim dari Kota Surabaya, yang akan merayakan ulang tahunnya yang ke-50 tahun, tanggal 22 Juli yang akan datang. 
Setelah berhasil meluncurkan serangkaian varian es krim baru di perempat tahun kedua, Campina pun kembali mendapatkan Top Brand for Kids Awards 2022, untuk kategori Es Krim. Ini menandakan, legacy brand ini masih diingat dengan baik, bahkan masih menjadi salah satu merek es krim yang pertama muncul di benak responden.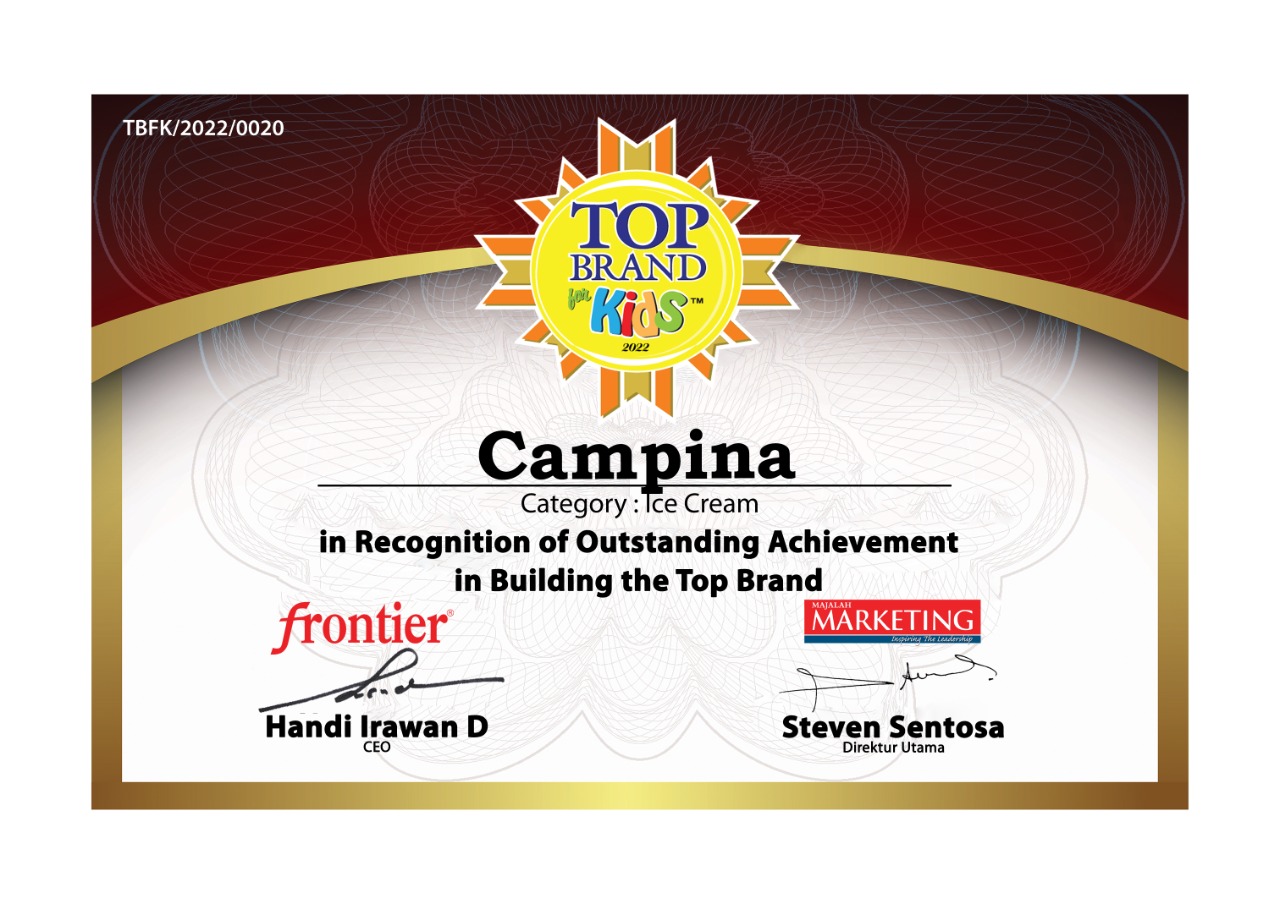 Penghargaan diterima oleh Bapak Harwindra Yoga Prasetya, selaku Marketing Communications Manager PT Campina Ice Cream Industry, Tbk, dan diserahkan oleh Bapak Steven Sentosa, selaku Direktur Utama Majalah Marketing, tanggal 15 Juni 2022 yang lalu.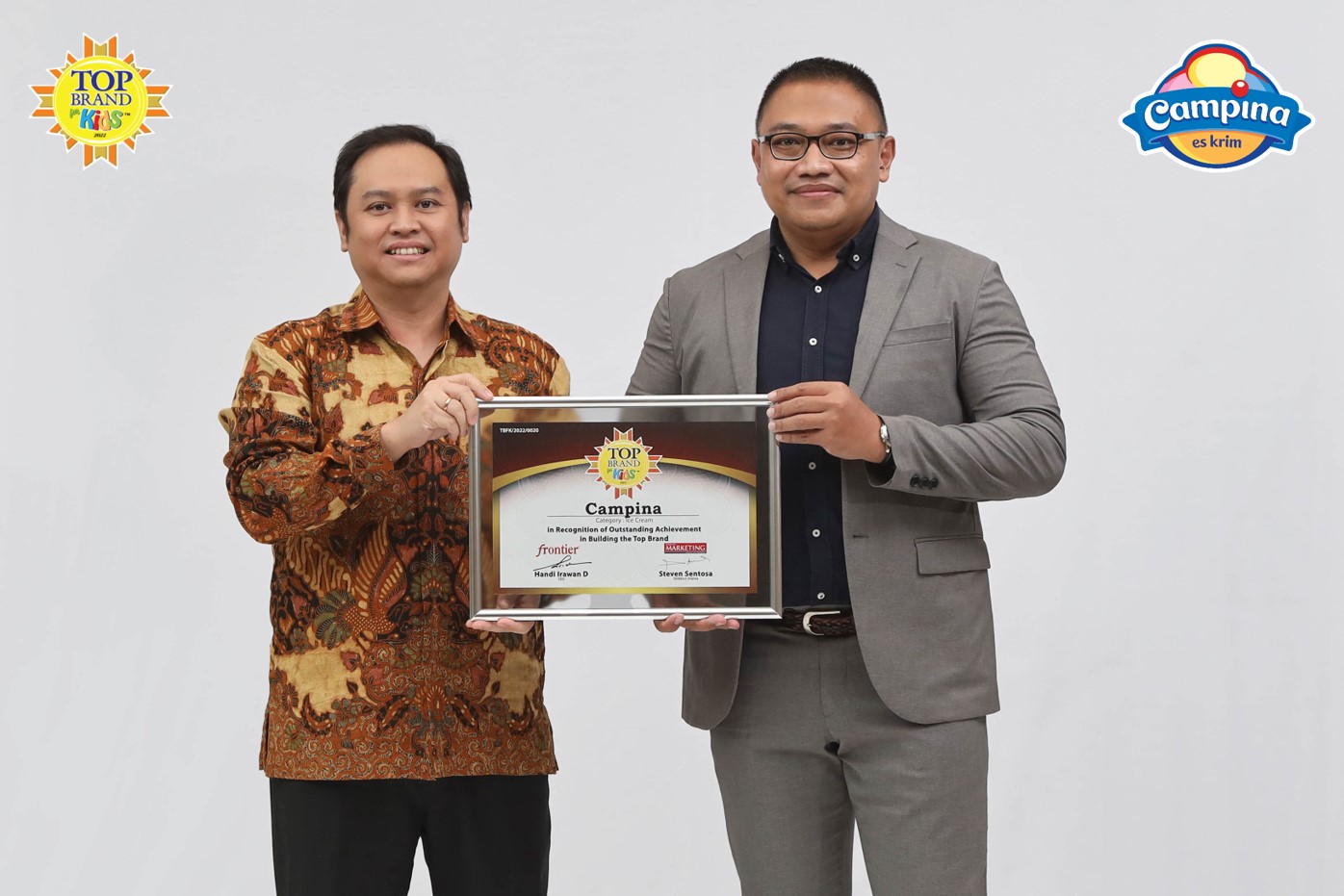 Penghargaan yang diinisiasi dan dilaksanakan oleh lembaga riset independen, Frontier Group. Data yang dikumpulkan kemudian digunakan untuk menentukan performa dan tingkat penetrasi tiap-tiap merek di pasar Indonesia. 
Proses wawancara dilakukan kepada responden, yaitu anak-anak, baik laki-laki maupun perempuan berusia 8-12 tahun (500 responden), kalangan wanita berusia 25-50 tahun yang memiliki anak di usia 0 – 12 tahun (1.000 responden), dan remaja laki-laki dan perempuan berusia 13-17 tahun, saat dihadapkan dengan pertanyaan merek apa yang muncul pertama kali saat mendengar kata kunci 'es krim'.
Wawancara dilakukan secara tatap muka, menggunakan kuesioner terstruktur yang didesain khusus untuk dapat mengukur ketiga parameter Top Brand, yaitu Top of Mind, Last Usage & Future Intentions:
Top of mind: kesadaran akan merek (merek pertama yang disebutkan oleh responden saat kategori produk diutarakan).
Last usage: penggunaan terakhir (merek terakhir yang digunakan/dikonsumsi oleh responden dalam satu siklus pembelian ulang).
Future intention: niat membeli kembali (keinginan responden untuk menggunakan/mengonsumsi kembali di masa mendatang).
Dengan diterimakannya penghargaan ini, berarti Campina Ice Cream selaku salah satu merek es krim masih memiliki brand awareness (top of mind), masih menjadi pilihan di saat ini (last/current usage), dan di masa yang akan datang (future intentions). 
Referensi:
Artikel Top Brand Award-Metodologi Survey (diakses pada hari Senin, 20 Juni 2022 pukul 14.57 WIB)
Artikel Top Brand Award-Top Brand Indeks (diakses pada hari Senin, 20 Juni 2022 pukul 14.57 WIB)