Tukarkan GO-POINTS anda dengan e-voucher discount 50% khusus untuk produk ice cream cake Campina hanya di www.icecreamstore.co.id. Informasi lebih lanjut hubungi: 0807 100 7576 (pulsa lokal), 0811229300 (phone-SMS-Whatsapp), atau email ke: pesanantar@campina.co.id.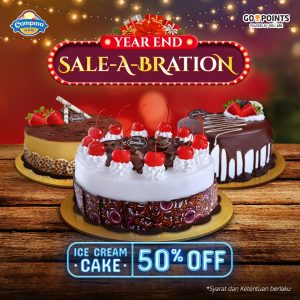 Steps to redeem the vouchers:
1. Setelah klaim kode e-voucher, pengguna masuk ke halaman website www.icecreamstore.co.id
2. Pengguna dapat mendaftar dengan klik sign up bila belum terdaftar sebagai member.
3. Ikuti langkah-langkah sign up, dan mohon pastikan e-mail yang dimasukkan valid.
4. Website akan mengirimkan link verifikasi ke alamat e-mail yang didaftarkan, setelah di-klik akun anda sudah terverifikasi.
5. Lanjutkan dengan memilih produk ice cake regular (Blackforest, Cassata, Tiramisu) yang anda sukai.
6. Pada saat konfirmasi pesanan, silahkan masukkan 5 digit kode alpha-numeric di kolom yang disediakan, lalu klik GUNAKAN.
7. Secara otomatis, nilai belanja anda akan terdiskon 50%.
8. Lanjutkan belanja sampai proses pembayaran selesai.
9. JIka anda mengalami kesulitan, mohon dapat menghubungi contact center Campina Delivery 08071007576 (pulsa lokal) atau 0811229300, dan e-mail pesanantar@campina.co.id
Terms & Conditions of E-vouchers:
•  Kode e-voucher hanya dapat digunakan di www.icecreamstore.co.id dan tidak dapat diuangkan.
•  Kode e-voucher hanya dapat digunakan untuk 1 kali transaksi untuk 1 item produk ice cake saja, dan tidak berlaku kelipatan.
•  Kode e-voucher berlaku dari tanggal 4 Desember 2017 s/d 4 Februari 2018.